Tinmasters prints labels for metal packaging (cans and tins). About 80-85% of our production is for food packaging. We are the major supplier to a number of renowned brands and as such take business continuity planning very seriously, which has stood us in good stead when faced with the recent coronavirus outbreak.
Our Business Continuity Plan (BCP) already had a specific plan for an influenza pandemic giving us a head start when it came to protecting our staff. To deal with the threat of COVID-19 we have extended and refined the protective measures in place ensuring that we not only comply with relevant regulations and Government advice but also to adopt best practice.
COVID-19 Keep Wales Safe - at work in manufacturing
We are very pleased to announce that we have implemented the Welsh Government's COVID-19 Keep Wales Safe – at work in manufacturing protocol which recognises both the Welsh law and good practice.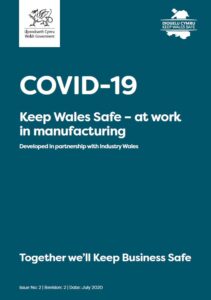 Working Safely During COVID-19 in Factories, Plants and Warehouses
We also adopted the UK Government's Working safely during COVID-19 in factories, plants and warehouses guidance. This guidance was prepared by the Department for Business, Energy and Industrial Strategy in consultation with Public Health England and the Health and Safety Executive and had input from industry bodies, unions and the devolved administrations.